Posts: 515
Joined: Wed Oct 20, 2004 4:13 pm
Location: Charleston, IL (Shitty college town)
fuck that.

That's why I went to an iPod. But you know what the catch is there?

If you use it too much (which I usually go to the gym twice-three times a week, and then it's my player in the car) the quality of battery life goes down and will eventually cease to function. So you can't win.
Posts: 1790
Joined: Wed Nov 17, 2004 9:13 am
Location: San Diego
Buy an archival marking pen, if you are worried.
That's who my lab orders through.
Oh, and your ipod battery will die if you don't use it, so you might as well. If you don't use it at all, expect it to last 3 years, if you use it all the time expect 2 years. I saw something on
www.ilounge.com
about how to get the most out of the battery life....basicly it said keep it charged.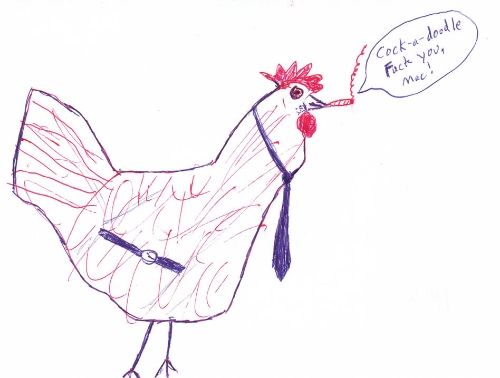 "I don't make promises, I make threats" - Some yelling black lady
cYnical wrote:The philosophical suggestion that pain don't hurt caused a paradigm shift in my life that I'm still not sure I've fully recovered from.
It's too late for me, now... I'm just thinking of all the PSX games, PC appz, Dreamcast games, music CD's, DVD movies, XBOX games.... it would probably take me about 6 months just to reburn everything I had.
Posts: 515
Joined: Wed Oct 20, 2004 4:13 pm
Location: Charleston, IL (Shitty college town)
I know that that's the case. I got the insurance from Circuit Shitty on it, so if it goes out, I'm only out about 10% of a new iPod to get a new one. I'd almost bet the mortgage that I'd get some kind of an upgrade too because I have the old one.
Hoyl carp! Half of my DVD collection is fuxxord.
Posts: 7037
Joined: Fri Jul 30, 2004 5:24 am
Location: I'm just here so I won't get fined.
If the movie and music industries really want to strike back at downloading, they should talk Best Buy into putting a sharpie display next to where they sell the blank DVDs and CDs.

I swears this is a true story. About 5 years ago I rented a DVD from Blockbuster and someone inside the company had written whatever-the-hell numbers they write on DVDs on the readable surface.